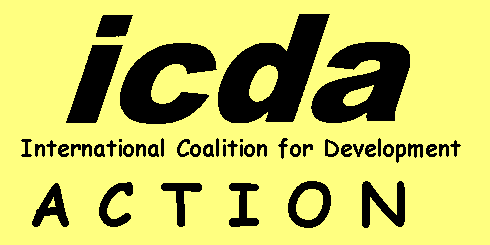 ---
---
Welcome to ICDA This site is best viewed with

---
ICDA Latest News
---
Current Members
---
Subscribe Here
Talk about the WTOIL!
Password Protected!!
---
Latest News
IWGGT (still under construction)
---

NEW Publications Page (under construction)
Latest ICDA Journal (under construction)
---
Internship
---
FAQ's
Site search Web search
---
<!! Table Ad for the WTO Impact List>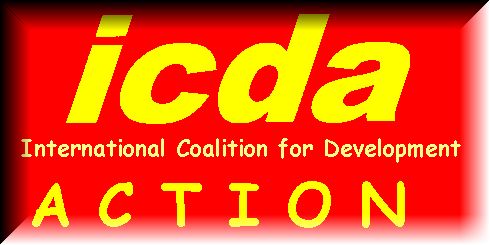 Latest at Secretariat:
---
Miss Jennifer M Cyr, and Simon Roughneen will join E.K.Bensah in the New Year. We would like to wish you all a very festive season and Happy New Year 2003;-)
[Posted: Friday '20' December @ 2.38pm CET]
---
LATEST at SECRETARIAT:
The ICDA Secretariat will wind up its activities to close on FRIDAY 20 DECEMBER for the Christmas break.
---
THE SECRETARIAT IS NOW CLOSED FOR CHRISTMAS AND THE NEW YEAR. WE WISH ALL OUR VISITORS A VERY PEACEFUL, PLEASANT and RELAXING NEW YEAR!! We will be back on 6 January 2003
[Posted:Friday 20 December @ 2:34pm CET]
---
FOOD FOR THOUGHT 2002

The mini-ministerial meeting of trade ministers from 25 nations held in Sydney has cast further doubts on the future of Doha round of talks and on liberalization of trade in the world...
The objective of the mini-summit is to prepare the agenda for the next WTO meeting and to reach so called consensus on crucial issues in greenroom conference...
Like a house divided, it is likely to collapse or become dysfunctional on its own.

--Hasnat Abdul Hye, Daily Star <!marquee scrolldelay="110" style="color: #0000CC; font-weight: bold" loop="5"> <!img src="new.gif"> <!font style="background:yellow"><!font color=black> <!/marquee> <!/font><!/a><!/p>
---
The International Coalition for Development Action is both a coalition of mainly development NGOs and networks and other civil society organizations in the North and South, as well as an advocacy NGO.

ICDA was founded in 1976 as a result of NGO coordination focused on trade and development issues at UNCTAD Conferences. ICDA is committed to building a more just and equitable international order, with specific focus on trade and trade-related issues.
The Brussels Secretariat acts as an information clearing house, monitoring media and specialized publications for relevant input. The Secretariat's participation in major (and minor) seminars and/or conferences and intergovernmental meetings provide yet other sources of information.
One of its primary aims is to promote issues of international development, including advocacy and education on the adverse aspects of international trade and trade-related isuues.
It has both NGO accreditation with the WTO Secretariat as well as consultative status with the United Nations Conference on Trade and Development (UNCTAD).

As part of ICDA's Programme on Trade, ICDA presents you its upcoming conference...
<!!SLEEP is GREEN!!; dollar=purple;>
Filling the Development Deficits and Influencing the WTOMC5: Transforming Blind Economic Globalization to Global Sustainability
15-16 November, 2002--Brussels

The objectives of the annual conference are to:
identify the core deficits of the latest int'l conferences.
examine and analyse the role of the private sector, FDI, partnerships, and corporate social responsibility after Johannesburg, as follow-up to ICDA Trade and TNC Seminar in April 2002.
explore ways in which ICDA's members, partners, and contacts in the South and North can work towards pressing both the WTO and the UN, especially development and trade bodies, such as UNCTAD, to play a more proactive role in advancing a gender-sensitive, people-oriented, sustainable development.
outline how ICDA's members, partners, and contacts from all regions can coordinate to focus on removing the development deficits from the WTO agenda and work program in order to advance a gender-sensitive, people-oriented, sustainable development.
pay particular attention to regional coordination towards the WTOMC5
Initiate collaboration on joint actions and campaigns

preliminary registration: register4AC@icda.be
---
Monday 30 September

European Trade Network 5 Sessions on: WSSD; ACP-EU Negotiations; ETN TOR; WTO issues; DG Trade & SIAs @ 11.11.11, Brussels
---
Wednesday 2 October

DG Trade Civil Society Dialogue: TRADE & DEVELOPMENT Day Chaired Debate: EBA; ACP-EU Negotiations; Agriculture; commodities @ Borschette, Brussels
---
Latest on ICDA Website
Most recent pages appear first
| | |
| --- | --- |
| | As the UN's Financing for Development Conference kicks off today in Monterrey, Mexico, all eyes will be on the so-called stakeholders -- ie The World Bank, the IMF, the WTO and providers of foreign investment (TNCs) -- and their desire to live up to the UN's 2015 Millenium development goals, with the UN. For more info, click here. [Posted:Monday 18 March 2002] |
| | |
| --- | --- |
| | <!img alt=new src="new.gif"> Daunted by all this trade information? Don't be. Instead, check out this new page for the very best articles from Naomi Klein, George Monbiot, and a slew of articles that we have culled from our WTO Impact Lists of February -- June 2001. Students, NGOs, and Activists, eat your heart out here. |
<!Though the WTO Ministerial in Qatar may be a day away from finishing, it is never to late to catch up on the dynamics of the WTO meetings. We apologise for not being able to provide you with background on Seattle -- there are tons of very good websites out there that cover this -- but we can at least give you the background on this particular ministerial.!>
| | |
| --- | --- |
| | Please keep your eyes peeled for more information on ICDA's participation in the Trade Caucus of the NGO Forum at the Conference. A Special Report will soon be posted up. In the meantime, please feel free to hear ICDA delegate, Ms. Meredyth Bowler-Ailloud of Strategic Development Initiative (SDI), read ICDA's Statement for the Conference here. |
| | |
| --- | --- |
| | <!img alt=new src="new.gif">ICDA has a Talk area! Feel free to post your messages on ICDA's general Discussion Board (most useful for visitors). For NGO affiliates, or Impact List subscribers, there is a private area where you can discuss issues most pertinent to you. ICDA members are not forgotten either, and will soon have a password-protected site for them, too. |


<!img alt=new src="new.gif">ICDA has finally set up its Special United Nations LDC3 Conference Page, in wake of the UN Conference which is to take place the week of 14 May to 20 May at the European Parliament.

Please see below on how to visit ICDA's LDC Page, as well as find out what LDC countries are. Of special concern will be the case of Sugar, and other useful links on the EBA initiative, as well as info. on UNCTAD.


ICDA has set up its Special EU_NGO Dialogue with Civil Society Page in the wake of the new round of issue groups that is to take place the week of 23 April to 27 April at the European Commission.

Please see below on how to view the highlights of the last report on WTO Transparency.
<!img src="new.gif">Special Reports
All the Latest ICDA Reports you need to know
---
---
---
---

Last Updated: Friday 20 December 2002 @ 2.39pm CET
*Please note that Page Updates are page-specific, which means that the whole site is not updated at once. You will therefore find that some pages have different dates of update.*



Web Page design/layout by: E.K.Bensah
Copyright ©E.K.BENSAH II PRODUCTIONS. 1998-2003
---
ICDA is a partner
ICDA was established on December 20, 1977. It is registered in the Netherlands, with registration n#:41198114
Since July 2002:
FastCounter by bCentral

Samuel, After 10 years, we still love you!!

<!!This Page and Website was radically re-designed by E.K.Bensah, 2001!!>