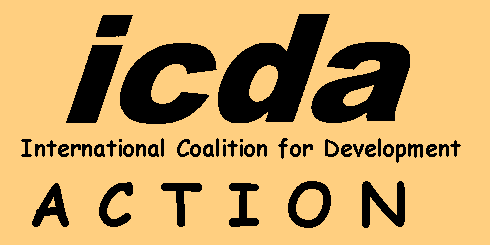 ---
---
Welcome to ICDA
Current Members
Subscribe Here
Latest News
Latest Journal (in construction)
Latest Update (in construction)
Internship
FAQ's
---
---
What are ICDA's current programme areas?
ICDA is currently working in 5 programme areas with members in both the North and South. Through the following areas, ICDA supports activities of groups working at the grass roots in the field of development cooperation and policy:
---
Trade & Institutions
Trade, Gender, and WTO Transparency
Trade, Environment & Sustainable Development
Trade & Social Issues
Trade, Investment,Competition policies, & TNCs
---
ICDA also administers and facilitates the following international and regional NGO-networks working on trade issues:

The Informal Working Group on Gender & Trade (IWGGT), which was established and developed from the Women's Caucus at the WTO Ministerial Conference in Singapore. It has participated in each Ministerial Conference.

[Regional]:
The Coordination of European NGOS Networking on Trade (CENNT), which is a European network of NGOs and NGO/trade union networks working on trade issue advocacy, education and lobby

The International Gender and Trade Network-Europe [IGTN-Europe]. ICDA is the general focal point for the IGTN's European Network, and the European Advocacy Focal Point for the regional network.
Something worth remembering:
If you are interested in finding out more about these issues, then feel free to subscribe to what ICDA calls the ICDA WTO Impact List. For more information, please feel free to visit the link on the left of this page under "WTO Impact List", or click to go directly there
---
Last Updated: Monday 28 January 2002 @ 18:26 CET
Copyright ©E.K.BENSAH II PRODUCTIONS. 1998-2002
---