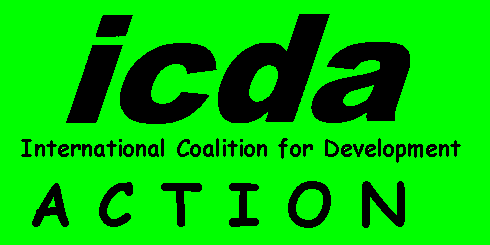 ---
---
Welcome to ICDA
This site is best viewed with

---
ICDA Latest News
Programme areas
ICDA History
---
Current Members
---
Subscribe Here
What do you think?
---
Latest News
IWGGT (in construction)
---
Latest ICDA Journal (in construction)
Latest ICDA Update (in construction)
---
Internship
Book Keeper/Part time administrative Assistant
---
FAQ's
About Us
Contact Us
Site search Web search
---

Welcome to ICDA Talk!

Latest Discussions &nbsp
What is the ICDA WTO Impact List?
Are you a WTO Impact List subscriber? What do you think about the list? Do you have any ideas on how to improve it? What are your impressions of it? Do you have a contribution to make? Express your zeal for the Zapatistas, nod approval to Naomi (Klein), or take the opportunity to wail at the WTO! Join the debate!
Latest Live Chat

Find out what's happening at the WTO!
On the ICDA Forum board, you can either chat live or post messages up regarding the UN LDC III Conference. Even better, you can let us know what topics you would like to see discussed. We will, in due time, inform you of any developments.
---
Who would you like to speak with?


Is there someone with whom you would like to chat? What about your ideas of ICDA Talk Page? Even better, do you have any suggestions as to how we can improve it for you -- especially the NGO user, or curious student? Please let us know. When sending us mail, please be sure to put "ICDA CHAT" in subject line.

Leave a message on the general ICDA Forum board!
---
---
Last Updated: Sunday 6 May 2001 @ 8:15pm EST

Copyright ©E.K.BENSAH II PRODUCTIONS. 1998-2001
---