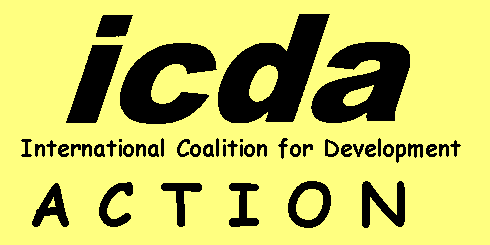 ---
---
Welcome to ICDA This site is best viewed with

---
ICDA Latest News
---
Current Members
---
Subscribe Here

Talk about the WTOIL!
Password Protected!!
---
Latest News
IWGGT (in construction)
---
Latest ICDA Journal (in construction)
---
Internship
Book Keeper/Part time administrative Assistant
---
FAQ's
Site search Web search
---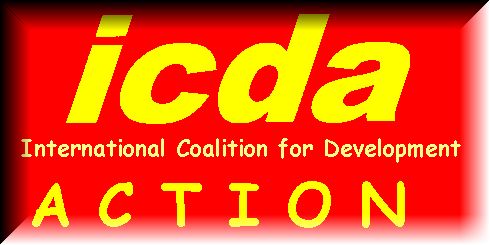 ---

Latest at Secretariat: HAPPY NEW YEAR!ICDA has been rather sporadic in its email responses. Please bear with us. We are in the process of updating the website for the New Year. Thanks for your understanding.
---
The International Coalition for Development Action is both a coalition of mainly development NGOs and networks and other civil society organizations in the North and South, as well as an advocacy NGO.

ICDA is committed to building a more just and equitable international order, with specific focus on trade and trade-related issues. One of its primary aims is to promote issues of international development, including advocacy and education on the adverse aspects of international trade and trade-related isuues.

It has both NGO accreditation with the WTO Secretariat as well as consultative status with the United Nations Conference on Trade and Development (UNCTAD).
Latest From ICDA Members
ICDA currently has 45 members, 36 of which are in Europe
---
Visit WIDE's Website [Posted June 27/01]

WIDE'S ANNUAL CONFERENCE 2001:

"Gender mainstreaming for invisibility or women's empowerment?"

MADRID, 4-7 October 2001

WIDE's (Network Women in Development Europe) Annual Conference will take place in Madrid from 4th to 7th of October, having as theme: "Gender mainstreaming for invisibility or women's empowerment?" The overall objective of the conference is to monitor the progress of implementation of the Beijing Platform for Action (PfA) and of gender mainstreaming at different levels, namely at the EU, national and international level. Moreover, the conference is aiming at adopting an action plan of strategic advocacy and lobby policy towards effective gender mainstreaming, as well as coming up with recommendations to the EU and other development and trade actors. Furthermore, the conference will focus on identifying gaps that possibly exist and need to be filled at different programme and policy levels.
Click here to obtain more information
---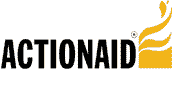 Visit ActionAid's Website [Posted May 08/01]

It's official. At the time of writing, British PM Tony Blair has just declared that the British general election will be held on June 7. With a British public ostensibly apathetic towards its politicians, ActionAid is seeking to redress the imbalance of prominence on domestic issues versus minimal coverage of international issues, such as World Debt, and Food Rights with its Global View 2001 campaign launched very recently.
---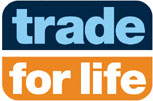 Visit Christian Aid's Website [Posted April 20/01]

Christian Aid has just launched a massive campaign to raise awareness of trade issues. For more information, check out their website.
---
| | |
| --- | --- |
| | This year the World Trade Organisation (WTO) enters into a new round of multilateral negotiations on services, mandated by the GATS (General Agreement on Trade in Services). This can have far-reaching consequences for the environment, providing public services such as education and health care. This conference, organized by Forum Environment & Development, aims to ignite a public discussion on these issues. |
---
Main ICDA Features
The ICDA WTO Impact List (WTOIL)
Visit ICDA's WTOIL Page
The WTO Impact List is a regular, daily email newsletter/list service, whose purpose is to circulate information on trade-related issues, with special, but not exclusive, focus on the WTO.
<!TABLE FOR WTOIL!>
| | | | | |
| --- | --- | --- | --- | --- |
| United Nations LDC3 | RIO+10 | Qatar/WTOMC | Regional Trade | Financing for Development |
---
Latest on ICDA Website
Most recent pages appear first
| | |
| --- | --- |
| | Daunted by all this trade information? Don't be. Instead, check out this new page for the very best articles from Naomi Klein, George Monbiot, and a slew of articles that we have culled from our WTO Impact Lists of February -- June 2001. Students, NGOs, and Activists, eat your heart out here. |
<!Though the WTO Ministerial in Qatar may be a day away from finishing, it is never to late to catch up on the dynamics of the WTO meetings. We apologise for not being able to provide you with background on Seattle -- there are tons of very good websites out there that cover this -- but we can at least give you the background on this particular ministerial.!>
| | |
| --- | --- |
| | Please keep your eyes peeled for more information on ICDA's participation in the Trade Caucus of the NGO Forum at the Conference. A Special Report will soon be posted up. In the meantime, please feel free to hear ICDA delegate, Ms. Meredyth Bowler-Ailloud of Strategic Development Initiative (SDI), read ICDA's Statement for the Conference here. |
| | |
| --- | --- |
| | ICDA has a Talk area! Feel free to post your messages on ICDA's general Discussion Board (most useful for visitors). For NGO affiliates, or Impact List subscribers, there is a private area where you can discuss issues most pertinent to you. ICDA members are not forgotten either, and will soon have a password-protected site for them, too. |


ICDA has finally set up its Special United Nations LDC3 Conference Page, in wake of the UN Conference which is to take place the week of 14 May to 20 May at the European Parliament.

Please see below on how to visit ICDA's LDC Page, as well as find out what LDC countries are. Of special concern will be the case of Sugar, and other useful links on the EBA initiative, as well as info. on UNCTAD.


ICDA has set up its Special EU_NGO Dialogue with Civil Society Page in the wake of the new round of issue groups that is to take place the week of 23 April to 27 April at the European Commission.

Please see below on how to view the highlights of the last report on WTO Transparency.

Special Reports
All the Latest ICDA Reports you need to know
---
---
---
---

Last Updated: Friday 11 January 2002 @ 3:23pm CET
*Please note that Page Updates are page-specific, which means that the whole site is not updated at once. You will therefore find that some pages have different dates of update.*



Web Page design/layout by: E.K.Bensah
Copyright ©E.K.BENSAH II PRODUCTIONS. 1998-2002
---

Samuel, After 10 years, we still love you!!